May 5, 2011: GOHF board member Melissa Chaikof hosts "friend-raiser" in newton, MA
On October 5th, a Gift of Hearing Foundation friend-raiser event was hosted by Melissa and Rachel Chaikof at their home in Newton. The event was well attended by not only those already familiar with cochlear implants but also by those who came to learn about the amazing difference this technology can make in the lives of recipients.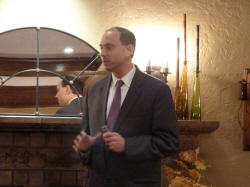 ▲Senator Jamie Eldridge, board member and author of CI Access bills in Massachusetts
Speakers included Massachusetts Senator Jamie Eldridge, lead sponsor of legislation to require health care companies in the state to pay for cochlear implant surgeries for children who are deaf and hard of hearing, as well as Dr. Mark Vecchiotti, cochlear implant surgeon and Chief of the Division of Pediatric Otolaryngology at the Floating Hospital for Children at Tufts Medical Center in Boston. Dr. Vecchiotti spoke about the abysmally low reimbursement level for implant surgery in the state that doesn't even cover the cost of the device itself.
Attendees were then able to hear firsthand from Rachel Chaikof, age 24, who has been hearing with CIs since she was 2; her younger sister, Jessica Chaikof, age 16, who received her first CI at age 15 months; Ben Borhegyi, age 10, who received his CIs at age 1; and Eileen Jones, chair and founder of the Gift of Hearing Foundation, who received her CIs as an adult. In sharing their personal stories, these recipients convinced all in attendance of the immeasurable value and the ability to change lives that cochlear implants provide.
▲Melissa Chaikof and her daughter Rachel
make the introductions
▲Dr. Mark Vecchiotti, Chief of Pediatric Cochlear Impant Clinic, Tufts New England
▲Ben Borhegyi (with his mom, Jen) accepts
a token gift from the GOHF