May 30, 2014, Miami, FL.:– Jacob Landis, 25, of Jacob's Ride triumphantly rode his bike into Marlin's Stadium for the completion of his transcontinental ride he began in April of 2013 for cochlear implant awareness and support.
Jacob' goal of completing his 6-month, 11,000 mile in 2013 was interrupted last September with only 180 miles and 2 days to go when he was hit and seriously injured by a semi-truck in Frostproof, FL. But as he vowed back in September – he returned to complete the ride from Frostproof to Miami this May and was greeted by well-wishers all along the way..
ABC Tampa News interviewed Jacob live before he arrived in Frostproof Click here to see some footage from that interview. Then Jacob arrived in Frostproof to get back on his bike to finish his last 180 miles. The town hosted a reception for Jacob that included the EMT personnel who assisted him during his accident, town officials, public service personnel and many local residents who wished him well on his journey. The county provided Jacob with a police escort.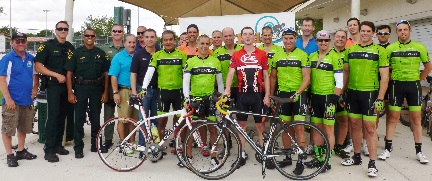 The town of Weston also held a reception for Jacob which their Mayor, Daniel Stermer, attended and provided an official welcome to Jacob. The Velo Cycle Club was also on hand to meet Jacob, and both the cycle club and the Weston police provided an escort through town for Jacob. Jacob's father Randy made the trip with him providing all levels of support including chase vehicle operation. Eileen Jones of the GOHF was present and helped organize the reception. The GOHF was also instrumental in organizing the details for Jacob's Ride 180.
Upon his arrival at Marlin Stadium, Jacob was greeted by many CI professionals, CI families and their friends and many supporters to see him triumphantly cross the finish line. Fox News and and NBC affiliate were on hand to interview Jacob. The Marlins hosted a reception for Jacob where he was toasted by CI industry leaders and a representative from the Marlins for his determination and diligence in completing his amazing ride. When asked "What's next?", Jacob admits he will probably not be doing another transcontinental trip any time soon, but he does want to continue raising awareness and funds to help others learn of and get access to cochlear implants. "…I still want to do rides for this cause, but they will be much shorter…" This is understandable!