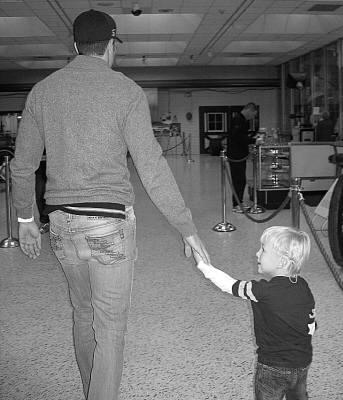 INDIANAPOLIS, IN: GOHF AT ALDAcon 2011
The conference for late–deafened adults held in Indianapolis October 26 – 30th sponsored by ALDA was a smashing success thanks to the great team of ALDA members/volunteers who brought it all together. Special appearances of the famous Scheckter racing cousins Tomas (GOHF board member) and Jaki (charter GOHF grantee) as plenary speakers was a special treat for conference attendees. Their presence at the conference was made possible by Advanced Bionics.

Tomas and Jaki treated everyone to an autograph signing/photo op after their talk and were also gracious in appearing for more of the same during a side tour of the Indy Speedway Hall of Fame Museum with conference attendees.

While there Tomas and Jaki were able to meet another special little guest from Indianapolis, toddler Jake Wolfe, who was also assisted by the GOHF in getting his first cochlear implant. Jake developed instant hero worship as Tomas escorted him personally through the museum and then he and Jaki posed for pictures with Jake in a late model race car. Every little boy's dream.

Tomas presented Jake with a gift of a medi-alert bracelet, and we have heard from Jake's Mom that he has yet to willingly take it off!

Jaki Shechter also took the time to visit other CI users in the immediate Indianapolis area before he returned to South Africa. Both Tomas and Jaki look forward to continuing their support of the CI technology through their racing opportunities.
Tomas, Jaki, Eileen Jones, and the Wolfes in the car!
Tomas and Jaki show Jake the ropes.
Jaki and Tomas offer Q&A