Over the past several years, the GOHF has been reaching out to help people with severe to profound hearing loss learn about and get access to the cochlear implant technology. Our focus has been events for people with hearing loss such as conferences held by the Association of Late-Deafened Adults (ALDA) in Chicago, Seattle, and Colorado Springs; the Hearing Loss Association of America (HLAA) in Reno, the AG Bell Association for the Deaf and Hard of Hearing in Milwaukee and The Audiology Association of America in Denver. In addition we have had a steady presence in events in the greater New England area, some of which are featured below.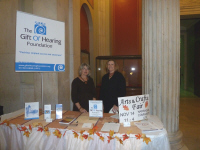 November 10, 2010:
GOHF President Eileen Jones and Volunteer Marie Younkin-Waldman greet attendees at the RI State House during a reception sponsored by the RI Commission for the Deaf and Hard of Hearing.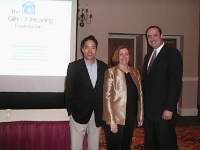 July 11, 2009:
GOHF Medical Advisor Dr. Daniel Lee, President Eileen Jones, and Board Member Sen. James Eldridge make a joint presentation at the Northeast Cochlear Implant Conference, Sturbridge, MA.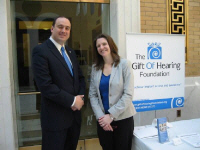 March 4, 2009:
GOHF Board Members Senator James Eldridge and Kristin Britton host a table during a reception at the State House in Boston sponsored by the Massachusetts Developmental Disabilities Council.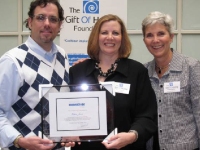 May 13, 2010:
Sean Gill of Hamilton Relay presents award to GOHF President Eileen Jones and Board Member Barbara Abineri at RI Hearing Loss Expo, Providence, RI.