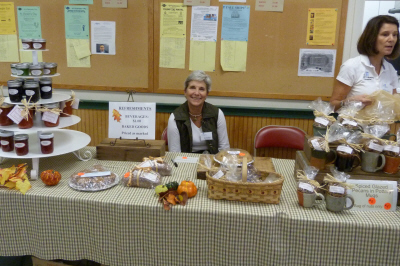 NARRAGANSETT, RI GOHF's 2nd ANNUAL ARTS & CRAFTS FAIR ANOTHER GREAT SUCCESS
Shoppers and supporters alike came out in great numbers to enjoy the 2nd Annual GOHF Arts & Crafts Fair held in Narragansett on November 13th. Twenty artists offered their beautiful wares and donated raffle items, and there were bake sales items galore to help boost sales making it an even more successful event than last year's.

Special thanks to all the hard-working volunteers who helped make this event such a success – including the GFWC Women's Club of South County whose members helped circulate flyers, baked and attended the event.
Board Members Barbara Abineri and Julie Tweed sell baked goods ►
Those of you in the southern New England area – be sure to mark your calendar for next year!